Marketers consider adopting several procedures to improve conversion rate for their brand page and one of the most successful methods is A/B testing.
A/B testing hypothesis is an experiment used between two or more variables to test which version converts the best. Despite the kind of channel you are experimenting, the major objective is to push your target market to make a call to action (whether download a form, make a purchase order, contact you etc…)
Companies, for example make a test to improve their original page conversion rate. known as the "main or control page."If that page is not converting well, marketers add a new page version considered the "variant one" in addition to the first one to implement another design, layout, image, color, pricing or promotions and make a comparison of which one is leading to a better conversion and generating more revenues. The image below represents two versions A and B so marketing developers are better able to notice which page converts better.
Two versions of different colors


After recognizing which variable is getting you generate better sales, you will then know which one is the best to present to your target audience. The example listed down shows which version is better: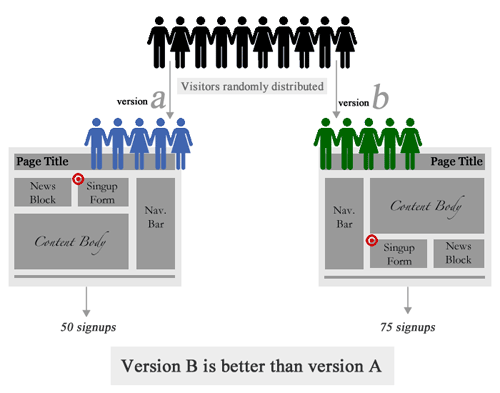 Changing the layout of version A has led to more customers clicks in version B


In addition, you could retrieve from the data generated by your ads, when is the best time  your customers are mostly responsive. This procedure is effective if you are posting contents on a daily basis.
In some cases, there is no necessity to make a serious adjustment of a version ; sometimes, adding few words could obviously increase conversion rate as represented in the picture below:

By adding "it's free", the company has increased sign-ups by 28%
In conclusion, marketers should determine the essential problems that prevent a page from receiving proper target audience responsiveness. The reasons could be either page color, wrongly asked questions, design or layout. Whatever the case is,  companies should carefully use A/B testing theory by devoting sufficient time so they are likely to experience higher conversion rate.